Categories
Categories
Brands
Brands
Product Description
BUY WITH CONFIDENCE - RISK FREE SHOPPING 30 DAYS FREE & EASY RETURNS WITH PRE-PAID SHIPPING LABEL (USA & UK BUYERS ONLY)
* THIS IS A BRAND NEW PRODUCT *
** FREE SHIPPING **
YAHAMA KEYBOARD PSR-i455 - SILVER COLOR - INDIAN KEYBOARD - EBF MODEL

Product Code - EBF
Concert Quality Yahama Keyboard

Music Database: 753 Voices And 206 Styles Built In

19 Indian Voices And 26 Indian Styles Included

Super-Realistic Cool And Sweet Voices

10-Song, 6-Track Sequence

Usb To Device Terminal

Control Knobs For Real Time Control

Arpeggio Feature Automatically Generates Chordbased Phrases

Real-Time Pitch Control With Pitch Bend Wheel

Adapter Included

Tested Before Shipping: Sound, Keys, Tuning, Sustain, Finish Etc.

Instrument Hand Made In India

NO CUSTOMS DUTY OR TAXES APPLY FOR USA CUSTOMERS

100% SAFE DELIVERY GUARANTEE
PLEASE RETAIN THE ORIGINAL PACKAGING IF YOU WOULD LIKE TO RETURN THE ITEM!
FREE SHIPPING to:
UNITED STATES, UNITED KINGDOM, GERMANY, FRANCE, BELGIUM, DENMARK, GREENLAND, ITALY, LIECHTENSTEIN, LUXEMBOURG, NETHERLANDS, SPAIN & SWITZERLAND.
LOW COST SHIPPING to:
NORTH AMERICA: CANADA, MEXICO
ASIA: JAPAN, SINGAPORE, MALAYSIA, SOUTH KOREA, TAIWAN, MACAO, CHINA, HONG KONG, THAILAND

OCEANIA: AUSTRALIA, NEW ZEALAND
EUROPE: AUSTRIA, BULGARIA, CROATIA, CYPRUS, CZECH REP, FINLAND, GIBRALTAR, GREECE, HUNGARY, ICELAND, IRELAND, MALTA, MONACO, NORWAY, POLAND, PORTUGAL, ROMANIA, SWEDEN, TURKEY, MONTENEGRO
SOUTH AMERICA & CARIBBEAN : ARGENTINA, BRAZIL, CHILE, COLOMBIA, COSTA RICA, DOMINICAN REPUBLIC, JAMAICA

(Add products to cart and check the shipping estimate on the shopping cart page)
For shipping to other countries, please contact us.
Reaches you within 3 to 5 working days after dispatch!
NO CUSTOMS DUTY OR TAXES APPLY FOR USA CUSTOMERS
Please note that Custom Duties, VAT or Import Taxes may apply directly to buyers outside of UNITED STATES
YAMAHA KEYBOARD PSR-i455 - LATEST MODEL
PSR-I455 has 753 voices and 206 styles built-in, 19 voices feature Indian instruments and 26 styles provide automatic accompaniment ideal for Indian music. Naturally, the electronic Tabla and Tanpura-which are indispensable to this type of music-can also be found here. In fact, this keyboard's Tabla and Tanpura can be set and played in exactly the same way as stand-alone instruments. What's more, the PSR-I455 also comes with raga-mode practice songs that can be conveniently used for instrument and voice training.

The PSR-I455 also features a number of enhancements to core functions. It has its own 10- song, 6-track sequencer, as well as a USB TO DEVICE terminal for rapid, convenient storage of songs, styles, and Registration Memory data. Meanwhile, a pair of knob-type controllers provides for more-expressive live performances-for example, they can be used for real-time control of assigned effects such as filters or to modify Arpeggio function patterns, of which 162 different types are included.Not only keyboard playing, but also DJ performances can be made much more dynamic and exciting using these controllers.

The PSR-I455 can replicate a diverse range of instruments and musical genres from countries and regions all over the world, not just India. As such, it is suitable for a great many different types of music. Whether studying, playing for fun, or performing for others, you will find everything you need packed into the stylish silver and black body of this class-topping super keyboard.



From the Manufacturer

Featuring 16 patterns with five different sections, the PSR-I455 faithfully recreates the sound of the electronic Tabla and Tanpura, rivaling stand-alone machines in the process. Tempo, transpose and balance for Tanpura / Tabla can be freely controlled in real-time using the keyboard's controller knobs.

Even more content optimized for Indian music—Extensive voices and rhythm styles, not to mention 12 Indian arpeggiator patterns

The full lineup of 753 voices on the PSR-I455 features a total of 19 different Indian musical instruments, and of the 206 built-in styles, 23 provide automatic accompaniment perfect for Indian music. What's more, the Arpeggio function also includes 12 uniquely Indian patterns. Add to this a diverse array of voices and styles from Mexican, Arabic, Brazilian, Chinese, and other genres, and it is easy to see why this portable keyboard is ideal for many different types of ethnic music from all over the world.

Raga practice songs

The PSR-I455 also comes complete with ten different raga-mode practice songs* which will prove highly useful in instrument or voice training.

USB TO DEVICE terminal makes it easy to store and recall data
With a USB flash memory device plugged into the keyboard's USB TO DEVICE terminal, you can easily save and load your own songs, as well as exchange data with a PC or another connected device.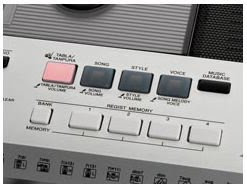 Song mode—Record as many as ten songs, each with up to six tracks

The PSR-I455 recorder supports a total of six tracks—five for melodies; one for styles and patterns. Combined, these tracks can be used to record approximately 19,000 notes (almost twice that of the previous PSR-I425 models). In addition, roughly ten songs of this size can be recorded and stored in the instrument.

Ultra Wide Stereo and many other advanced Yamaha effects built-in

The PSR-I455 comes with a selection of powerful effects that other keyboards in its class simply cannot match. For dynamic control of the instrument's overall sound, choose from nine types of reverb, chorus, harmony, and five different types of master EQ that can be used to sculpt the final output. What's more, the instrument also comes with Ultra Wide Stereo—an acclaimed Yamaha audio effect that can be used to create a wider, more vibrant stereo mixes.

Four pads with eight banks of Registration Memory

Using Registration Memory, you can store up to 32 complete setups of your favorite PSR-I455 settings for easy recall whenever needed. In addition, a Freeze mode has been added for the Tabla and Tanpura. Specifically, this mode lets you retain Style or Tabla/Tanpura settings when you switch to a different Registration Memory.

Song Book

A song book containing the sheet music for the keyboard's built-in songs can be downloaded free-of-charge (online user-registration required). The book also provides descriptions of how to play the song chords and other performance tips.
NOTE: It is advised to please open the packing of the instrument so that it gets aired and it stays in tune. Also, it is recommended to keep it away from extreme hot or damp area.
Package Contains
Yahama Keyboard PSR-i455, Silver Color
Yahama Dimensions:
Length - 15 Inches approx. (+/- 1 Inch)
Breath - 37.50 Inches approx. (+/- 1 Inch)
Height - 6 Inches approx. (+/- 1 Inch)
Weight: 7 KG approx
Sturdy Storage Case
Product Reviews
Find Similar Products by Category
Customers also viewed